---
Services:
E-commerce Fulfilment
When your ecommerce business grows to the point where you can no longer package and ship the orders yourself, or your brand is expanding into new markets, it's time to consider outsourcing your order fulfilment.
Fulfilment Solutions
Our fulfilment warehouse gives you the time to work on growing your business - not packing orders.
We can handle a diverse product range from foods, wine, spirits, electrical goods, Vape, luxury goods, health and beauty & high value electronics.
Orders
Link your wen site quickly and easily with our API. We accept shipping requests via email, pdf, web-based applications, CSV or integration. When your order shipping requests are received, your stock is packaged the same day and shipped to the customer.
We can notify your customers of their order tracking numbers and they will receive texts to confirm their one-hour delivery time slot, so they don't have to wait in all day.
Personalisation
We can provide a wide range of solutions to match your business needs including:
Packing
Bar coding
Box assembly
Protective wrap
Return & exchange handling
Message cards & personalisation
---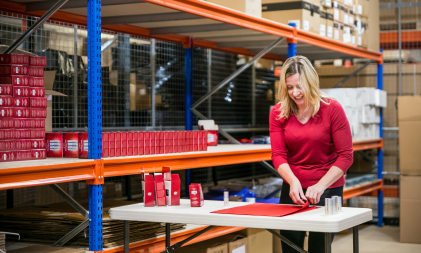 Hassle free returns
Where customers can't examine products before they are purchased, returns and exchanges are all too common. We can manage returns and exchanges, arranging collection from customers homes or businesses. We provide a thorough inspection service, based on your policies.
Sell on-line
Contact us today to discuss your requirements. Click the link below or give us a call on 0118 304 1700
Contact us today